All staff positions are currently filled at this time. Thank you for your interest.
---
Our Staff
Kathy Cherry
coming soon.
---
Miranda Wolfe, ECE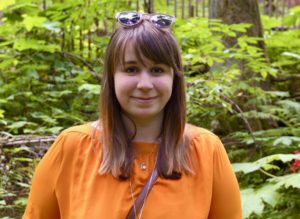 I am an enthusiastic, hardworking and energetic young woman with extensive experience in the child care sector in British Columbia since 2016. I have a passion for caring for young children and have travelled the world through my education in order to understand maternal care and family systems more thoroughly. In June 2017, I was awarded the opportunity to work on the MAISHA Project in Kenya, Africa through College of the Rockies. I contributed to data collection in regards to maternal health/mortality rates through this project. The following year in June 2018, I was awarded a position on the International Youth Internship Program of Canada to travel to Dominica in the Caribbean to work alongside special needs children/youth at the Achievement Learning Centre. Since returning from my travels abroad, I have been living and working in Creston, BC with my husband and infant daughter.
Education:
College of the Rockies – Early Childhood Educator Certification – 2018
College of the Rockies – Infant/Toddler Specialization – currently earning
---
Gulnara Gaynullina, ECE
For more than 30 years I have been enjoying the communication with children who are in the most interesting and the most important ages of their life. The first 5 years of life are very significant for development and getting first knowledge about themselves and the surrounding world. I am very proud that I can be the part of this. I previously worked as a speech language pathologist on my motherland for 18 years. After moving to Canada I worked as a nanny for 2,5 years (2-5 years old kids), in a Day Care and in a 'Before and After School' care facility for 3 years. I have strong communication with children and their parents, I am experienced in providing support to children with speech and learning disabilities. I have strong professional ethics and am great at arranging a safe and developmentally appropriate environment. See below for my education.
Training:
Pre-School Teacher Diploma – Pedagogical College, Ufa Russia
Bachelor of Education – Moscow State University, Moscow Russia
Level 3 – Advanced Qualification Certificate Alberta
CPR/AED Course Level B – Alberta Red Cross, Alberta
Early Childhood Educator. Special Needs Educator – British Columbia Certificate
Professional development courses for the last 5 years:
Childhood Anxiety: Symptoms, Treatments and Prevention Strategies
Sleep Solutions
Daniel Hodgins. Boys: Changing the Classroom, Not a Child
Challenging Behaviours with School Age Children
Parenting Sad and Depressed Children and Youth
Effective Communication
Parenting a Child with Disruptive Behaviours (Preschool – Aged)